Our Range of Expertise
---
Our business continues to flourish due to the innovative growth and established experience found in each of our four key departments. The architectural stonework division, the stone construction division, our fabrication shop and our quarries all succeed in delivering exceptional work independently, however, it's when these departments overlap on a project that we see the full strength of our business. Together, they give us the unique freedom and capability to excel at our craft and utilize our 40-plus years of experience to bring our client's ideas to light.
The sophistication and versatility of our machinery ensures the superiority of our custom stonework seen in both residential and commercial spaces. We utilize four stationary wire saws that run 24 hours a day and five multiple axis bridge saws.
Our unique flexibility enables us to participate in many aspects of a project, including working closely through our established relationships with architects, contractors and landscape companies. Whether we're delivering the ideas, value engineering or providing aesthetic or experience-based input, we've become a reliable and trusted contributor for jobs of any size.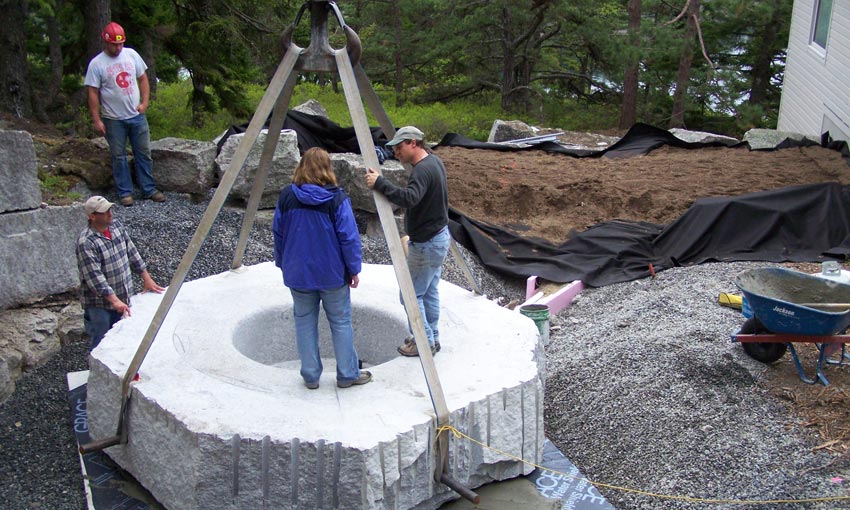 Freshwater Stone has been in the stone construction business for over 40 years. We've become a valuable resource for clients and other industry professionals who are interested in understanding best practices when it comes to installing stone. With over 34,000 square feet of shop space to work with and 13 overhead cranes at our disposal, consequently we are able to prefabricate most of our stonework in-house – everything from complete veneer walls to stairways, fireplaces and chimneys.
The advantages of this method translate into the ability to work year-round in a climate controlled space, in addition to utilizing our full inventory of stone, with all of our machinery and equipment resources within arm's reach.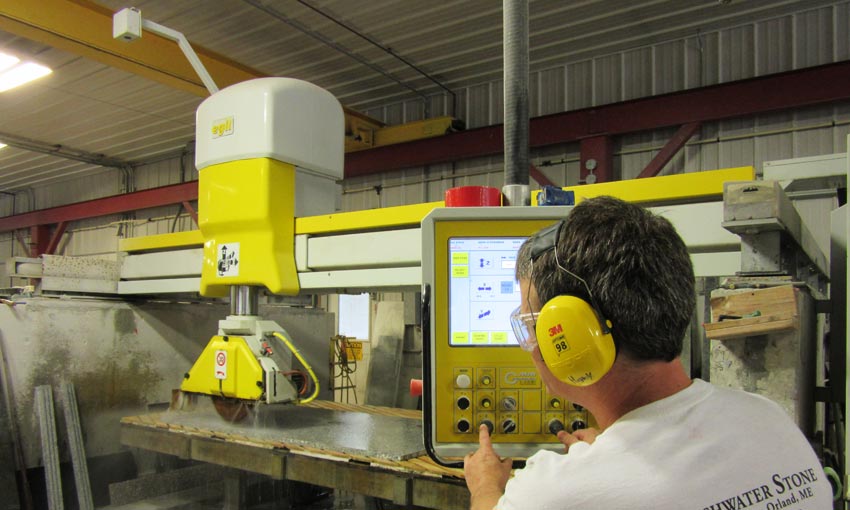 Our Italian lineup of computer driven CNCs, surface treatment machines and bridge saws, enables us to fabricate work on interiors such as countertops, vanity tops, kitchen sinks, showers, specialty pieces, mantles and hearths, small furniture pieces, table tops and boat tops.

While we work with metropolitan area distributors with access to stone from all over the world, we are most proud of our own stone from the three local quarries we operate in Maine:
Freshwater Pearl® Granite from Mosquito Mountain in Frankfort

Our signature beautiful grey granite is exceptionally durable and possesses a visual life, with swirl and variation in the composition of its crystal formation. Click here to learn more.
Hall Quarry® Granite from Hall Quarry on Mount Desert Island

Our historic pink and tan granite can be spotted in many estates along the coast and is most associated with Mount Desert Island where it's found on the carriage trails of Acadia National Park and as a border along its roads. We often use Hall Quarry® Granite for historic restoration projects including famous local bridges and private residences because it matches the stone from 100 years ago. Click here to learn more.
Cherry Fields® Granite from our quarry in the Jonesboro area

Our latest featured granite originates from Downeast Maine. Its vibrant color resembles the blazing orange of the Maine blueberry fields in autumn. Click here to learn more.
We also work with beautiful and unusual local stones that we source for custom projects:
Duck Cove is a stunning schist with variegated white and green colors, which is reminiscent of Verde Antique marble. Click on the image to the right for a complete gallery of finishes.